We provided a wristband kiosk solution to a large UK based Leisure Centre Management company had a problem issuing their leisure centre customers with a wristband that clearly identified them as "paying customers".
They had, over a number of years, used a few large wristband kiosk manufacturers to provide a Wristband kiosk solution that dispensed a wristband that had the customer's name and membership number printed on it.
In every case the solution had failed to be reliable and they had become disillusioned with the wristband kiosk idea.
They were introduced to us by their new Leisure Centre Management Software vendor – a company we had known and worked with for a number of years.
We listened carefully to their needs and took on board the problems they had encountered.
With many years experience of a wide variety of printers, printer companies, plus an even longer experience of labels, materials and adhesives – we were able to assess that all their problems revolved around 5 main issues:
Reliability and robustness of the wristband printer and its suitability to handle the media being printed on.

Selection of the right media and ADHESIVES for the wristbands

Monitoring of media level within the Kiosk – i.e. "media low" warning.

Media handling as the reel runs down – the "curl" gets tighter.

After – sales support and maintenance.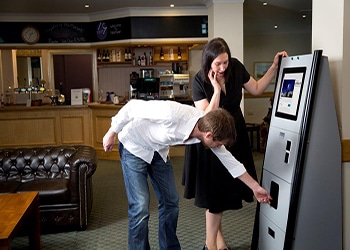 We took this information and worked closely with a major printer manufacturer to design a dedicated industrial wristband printer that works! We also worked with label and media manufacturers to ensure full compatibility with the printer. Putting all this together following our design procedure as well as input from our CAD designers and electronics engineers – we were able to come up with a rock solid kiosk design with all components working together to provide a reliable solution.
Probably the only fully fit for purpose unattended printing kiosk in the market. A pilot scheme was put into operation, and the kiosk passed with flying colours. We then proposed a 7 day, 24 hour fix, on-site maintenance agreement to ensure the kiosks were kept in full working order at all times. This has worked perfectly, and a complete solution was in place.
Several hundred kiosks have now been deployed and over 6 million wristbands have been successfully printed and dispensed to our client's customers.
We think this shows that, with the right level of knowledge of a wide range of technologies, a smaller, niche manufacturer can out perform large, multinational corporations.
We have the technology and we know how to use it for your benefit!
Bob Gwyn, Product Manager – Kiosks. All Right Now Ltd.
For further information please visit here